According to the world automobile production statistics released by the World Automobile Manufacturers Association, the total world automobile production in 2009 was 60.99 million. Among them, China rose to the world's largest automobile producing country, with annual output increasing by 48.3% year-on-year, leading to 13.79 million units. It is estimated that China's automobile production and sales will exceed 15 million in 2010 and hit a record high.
Forecasts With the continued growth of Asia, especially China's auto market, and the maturity and cost reduction of LED backlighting and lighting applications, the global automotive LED 28a market will expand at a rate of 15% per year from 2010 to 2012, and its market size will be In 2012, it increased from $4.11 billion in 2006 to $12 billion. The annual sales of automotive LEDs will be doubled in the next 10 years. At present, LED has been widely used in automotive interior lighting. LEDs are gradually transitioning to automotive headlights, taillights and other products, showing a trend from the inside to the outside and from the back to the front. In recent years, with the improvement of the level of some automotive lighting technology and the cost reduction, the number of LED applications has increased. Domestic Honda Accord, Nissan Teana, Crown, Reiz, Cadillac series, Buick Rongyu and other models have adopted LED lighting technology.
In terms of application, the backlights for 5~10-inch LCD panels used in future car dashboards, portable DVD drives and car navigation systems, and the white LEDs used in automotive headlights will become the driving force for this market growth. Although the growth rate of the automotive LED market is slow in 2009, the current day-to-day lighting regulations promoted by the EU will further drive the take-off of the automotive LED market, and continue to expand from the original automotive brake lights, direction lights, and vehicle room lighting.
Taking the automobile headlight LED as an example, the "Lexus LS600h", which was launched by the Japanese car manufacturer TOYOTA in May 2007, is the world's first model equipped with LED headlights. In the same autumn, the German Audi R8 was also equipped with LED lights. The LS600h uses white LEDs only for low beam headlights, while the R8 and Cadill ac Escalade Platinum's low beam headlights and high beam headlights use white LEDs. Among them, LS600h's headlight supplier is Nichia, R8 is US PhilipsLumileds Lighting, and Cadillac Escalade Platinum headlight supplier is Germany Osram.
The global white LED market research report released by Fuji Chimera Research Institute of Japan is expected to reach 350.2 billion yen (about 28 billion yuan) in 2010 and an annual output of 15.68 billion 7820. Among them, although the vehicle use accounted for a small proportion of the entire market, it is expected to achieve significant growth in the future. The white LED market is currently mainly used for liquid crystal backlights. The vehicle use is centered on the interior lights of automobiles, and the number of shares is only 5 to 6%. However, it is expected that the headlamp restrictions will be relaxed, coupled with the increase in the brightness of white LEDs. By 2010, there will be a significant increase in the number and amount of white LEDs used in automobiles.
The LED LED market has a high growth rate, and the current average gross profit margin is generally above 20%, which is an area in which LED manufacturers compete. However, the Institute of Industrial Technology in Taiwan pointed out that due to the high requirements for the headlights of the car headlights in terms of heat dissipation, reliability, brightness, etc., the manufacturers that have been introduced by the car manufacturers are still mainly international companies such as Nichias and Osram, Taiwan. At present, the LED factory is mainly focusing on the application of automobile taillights and interior lights such as instrument panel backlights. Including Yiguang is the main supplier of DaYi, the small car supplied by Dongbei to Nissan, and Hongqi is also the OEM of the instrument panel backlight LED manufacturer.
In the taillights and in-vehicle application lights (such as instrument panel backlighting), there are already many LED factories in Taiwan in China, including Hongqi, which has long been the OEM of the instrument panel backlight LED. Dongbei is currently NissanMarch. The taillight supplier of the car, Yiguang is the major supplier of DaYi. In terms of total shipment amount and quantity, Yiguang is currently a large-scale manufacturer of automotive LEDs in Taiwan, but this part of the total revenue share of Yiguang is still very low.
According to data released by the National Semiconductor Lighting Engineering Research and Development and Industry Alliance (CSA), Dominant and OSRAM currently account for 60% of the global market share of automotive electronics.
In recent years, China's Taiwan and the domestic Pearl River Delta and the Yangtze River Delta region have developed rapidly. In the past two years, the quality has also improved significantly. The market is often cheap. Shenzhen Ruifeng Optoelectronics is in the automobile instrument, car audio, car DVD and other vehicles. In terms of small and medium-sized LCD backlights, it is currently the mainstream supplier of optoelectronic devices for domestic brand auto manufacturers. The technical level and market share of the products are second only to Osram in Germany. Ruifeng is at the domestic leading level in the development of high temperature resistant materials for automotive applications, phosphor color matching technology, and vibration resistance of products.
With the improvement of the technical level of LED lighting components and the decline of product prices, LED combination taillights, LED brake lights, LED turn signals, etc. will become the mainstream configuration of China's car lights. CSA expects that China's LED front-loading market (OEM supporting market) in 2010, LED combination taillights, LED central high-position brake lights, automotive instrument backlights and other LED lights will reach 5 billion yuan.

The High Power Battery Pack is mainly used in various vehicles, ships, aircraft and other internal combustion engines, lighting, energy storage, uninterrupted power supply, mobile communication, portable electric tools, electric toys.there are some differences compared with other normal battery .
1.properties
High power Lithium Battery is a battery that powers a vehicle, usually compared to a small battery that powers a portable electronic device. And normal lithium battery is a kind of anode materials for lithium metal or lithium alloy, using nonaqueous electrolyte solution of a battery, and Rechargeable Battery lithium ion battery and lithium ion polymer battery is not the same
2.discharge power
a 4200 mah high power lithium battery can discharge all power in just a few minutes, but normal lithium battery could not do that completely, so normal lithium battery discharge ability cannot be compared with the high power lithium batteries entirely. The biggest difference between high power lithium battery and onormal lithium battery lies in its high discharge power and higher energy. Since high power lithium-ion batteries are mainly used for automotive energy supply, they have higher discharge power than ordinary batteries.

3.High Power Battery pack can discharge at higher instantaneous current than normal Lithium Battery Pack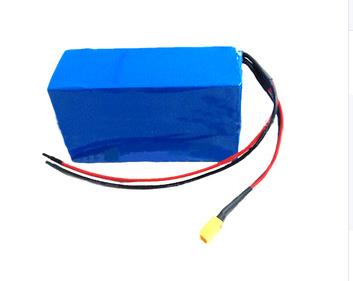 High Power Battery Pack
High Power Battery Pack,High Power Battery,Battery Pack,Lithium Polymer Battery
YFJ TECHNOLOGY (HK) CO.,LIMITED , http://www.yfjpower.com