Broadcom, Inc. (NASDAQ: BRCM), a global leader in wireline and wireless communications semiconductor solutions, announced that Inspur Group, a major system integrator of Shandong Cable TV Network, has decided to use Broadcom's award-winning HD set-top box single-chip solution (SoC). , providing cable TV services to millions of Chinese cable TV users. Inspur's set-top boxes will use Broadcom's BCM7583 High Inventory Chip Solution (SoC), which combines cost-effective design and high performance to enable the world's leading cable operators to increase service while reducing overall costs. Broadcom presented its latest innovations at CCBN in Beijing on March 20-22.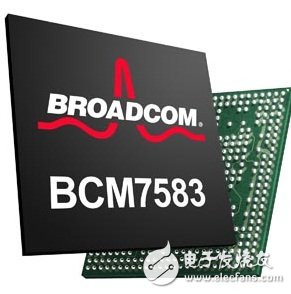 Inspur Group will be the first major cable operator in China to adopt Broadcom's BCM7583 single-chip solution (SoC) in set-top box design. At present, the number of pay TV users in China continues to rise. Analysts estimate that by 2018, Asia Pacific will add 420 million new pay-TV users, which is three times the total number of American households. China's largest telecom operators and broadcast/cable TV operators are actively deploying related products and technologies to provide these services in key markets across the country. Broadcom's integrated set-top box solution provides an entry-level HD and OTT platform with the ability to deliver high-definition video to multiple devices simultaneously.
"Consumers hope that the demand for watching TV programs anytime and anywhere is increasing, which brings great opportunities for Chinese cable operators," said Cui Wei, vice president and general manager of Inspur Group's digital media business. "Broadcom's highly integrated set-top box solutions combine powerful features, higher performance and lower cost, allowing cable operators to offer a wide range of value-added services and expand their user base."
"By integrating full-band capture, high-performance CPU and 3D graphics processing capabilities on a single chip, our HD set-top box solutions enable operators around the world to deliver cost-effective, advanced content distribution services to a growing customer base," Dan Marotta, executive vice president and general manager of Broadcom Broadband Communications Group, said. "Leading integrators like Inspur Group will be able to quickly build and deploy platforms that combine high performance and cost effectiveness with the latest technology and capabilities."
Main features of Broadcom BCM7583 HD set-top box (SoC)
● Allows cable operators to provide broadband Internet access and video on demand services to manage spectrum more efficiently
● Can meet the content protection requirements of China National Radio, Film and Television Administration DCAS and advanced conditional access network
● Integrated advanced 3D graphics GPU to meet the requirements of various HTML5 applications and OTT services
● Equipped with a powerful CPU and high-speed DDR3 memory, providing a more advanced user interface while maintaining a small size design
● Equipped with 802.11ac and 802.11n Wi-Fi interfaces to support industry-leading Wi-Fi video and high-speed data services
● Integrated full-band capture capability to provide advanced remote diagnostics, significantly reducing carrier support costs
● Interface with DOCSIS 2.0 and C-DOCSIS to support cost-effective modular two-way system compatibility
Availability
Inspur Group HD set-top boxes are currently available to Chinese users. Broadcom BCM7583 has also been mass-produced.
We are the manufacturer of producing energy saving ceiling lamps. There are three color temperatures with cool white, warm white and natural white of down lights. Available RD/BL/GR/PK with multi-color options for you. The unique features of LED Down Light are: CRI>80, PF>0.5. These ceiling lamps are mainly apply to hotel, restaurant, office, shopping mall, super market, residence, hospital, coffee bar, club, staircase, entrance and toilet etc. Specially molded led down light in high grade pure polycarbonate material and with aluminum heat sink brings superior insulation performance, cost effective, easy installed, durable illumination on your ceiling. Such simple design PC led down lighting creats a very good light ambience after it is installed in home, hotel hall and supermarkets etc, it is a popular choice for ceiling lighting facility.
Smd Downlight,Smd Led Panel Downlight,Led Smd Downlight,Smd Downlight Housing
Jiangmen Lika Lighting Electrical Appliances Co., Ltd , https://www.lika-led.com