Until recently, home networking was mainly the exclusive domain of technology enthusiasts—most families do not need or can't afford multiple computers. But now, a computer is not enough to meet the needs of many families. In homes with multiple computers, home networking is often a necessity, not a technical toy.
If you are considering networking your home computer, you have many options. In this article, you will learn about different types of home computer networks, how these networks work, and what you should pay attention to when planning to create a network.
The home network is a way for computers to communicate with each other. If you have two or more computers in your home, networking can enable them to share the following resources:
Files and documents Internet connection Printers, scanners and other devices Different network types use different hardware, but they all have the same basic components: More than one computer is used to coordinate information exchange hardware (such as router) and software (operating system (Bundled software or separate application) The path of information transmission between computers The two most popular types of home networks are wireless and Ethernet. In both types, the router performs most of the work and is responsible for controlling the communication between interconnected devices. By connecting the router to a dial-up, DSL, or cable modem, you can also allow multiple computers to share an Internet connection. Many new routers combine wireless and Ethernet technologies, and include hardware firewalls. For more information about routers, see How Routers Work.
If you want to connect your network to the Internet, you need a firewall. A firewall is a program or hardware device that protects your network from malicious users and offensive websites. Many firewall software blocks all incoming information by default and prompts you to confirm whether the information is allowed to pass. In this way, the firewall can understand what type of information you want to allow to enter your network. For more information about firewalls, see How Firewalls Work.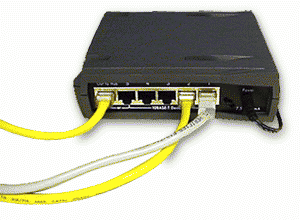 The router connects your computers to each other. If you connect the router to your modem, you can also connect your network to the Internet.
The easiest and least expensive way to connect to a computer at home is to use a wireless network. This network uses radio waves instead of cables. Since no physical cables are used, this network is very flexible. For example, you can move a laptop between rooms without adjusting the network cable or disconnecting. The disadvantage is that wireless connections are usually slower than Ethernet connections.
Faster wireless networks Most home wireless networks use 802.11g wireless networking, capable of transmitting data at 54 megabits at 2.4 GHz. The newer wireless standard is 802.11n, which is faster and has greater coverage than 802.11g. However, the 802.11n standard is not the final version, and its early hardware failed to meet expectations during testing.
If you want to establish a wireless network, you need a wireless router. The signal from the wireless router can propagate about 30.5 meters in all directions, but the wall can interrupt the signal. Depending on the size and structure of your home and the coverage of the router, you may need to purchase a signal booster or repeater to achieve the desired coverage.
A Wireless Adapter is also required in every computer you plan to connect to the network. You can also add printers and other devices to the network. Some new models of devices have built-in wireless communication function, you can use wireless Ethernet bridge to add this function to devices without wireless function.
If you decide to build a wireless network, you need to take steps to protect it-you probably wo n't want your neighbors to use your wireless signal for free. Wireless security options include:
Wired Equivalency Privacy (WEP), Wireless Fidelity Protected Access (WiFi Protected Access, WPA), Media Access Control (MAC) address filtering, you can choose to use it when setting up a wireless router Method (or combination of methods).
You can choose the method (or combination of methods) to use when setting up the wireless router.
Although the wireless network is simple and flexible, it is not suitable for everyone. Some people just feel safer using wired networks, while others want to move large amounts of data quickly. In either case, wired Ethernet is a better choice. Ethernet is faster than wireless networks, and the price may be very low. However, the cost of Ethernet cables is cumulative—the more computers in the network, the farther they are from each other, the more expensive the cost. In addition, unless you are going to build a new house and pre-install Ethernet cables in the walls, you will see cables spreading around your home.
If you plan to connect only two computers, you only need to install a network interface card (NIC) in each computer, and connect a cable between the two computers. The most commonly used cable is Category 5 unshielded twisted pair (UTP). If you want to connect multiple computers or other devices, you need an additional device-an Ethernet router. You also need to use a cable to connect each computer or device to the router.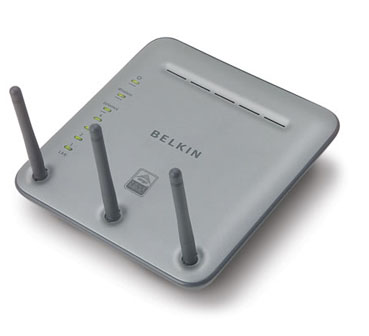 Photo courtesy of HowStuffWorks Shopper. This Belkin router provides wireless and Ethernet connections, while acting as a firewall.

After you have prepared all the devices, all you need to do is install the devices and configure the computers so that they can communicate with each other. The specific work required depends on the network type and existing hardware. For example, if you choose Ethernet and the computer has a network card installed, you only need to purchase a router and cable and configure it on the computer. No matter which type you choose, the routers, adapters, and other hardware you purchase should come with complete installation instructions.
The steps required to configure your computer also vary depending on your hardware and operating system. The following links provide more details on how to network your computer:
If neither wireless network nor Ethernet is suitable for you, you can choose another method to connect your computer. If your computer has a USB or FireWire port, you can use cables, flash drives, or file transfer devices to move files around. Other options include power line networks and telephone line networks, which both use existing lines in your home to connect to your computer, so you do n't need to worry about hiding extra cables. For more information, please refer to the introduction on how to implement power line networking and telephone line networking.
Shareconn development co.,Ltd can produce series medical cables base on customer's requirement. Our factory received ISO13485 certificate in 2017. We can manufacture PVC cables, TPE cables, PUR cables, silicone cables, rubber cables and so on.
Custom Medical Cable Assemblies, designed to meet your unique specifications and environmental conditions, are our company's expertise. Bring us any design, any need, and as a trusted custom medical Cable Assembly manufacturer, we will create an individualized solution that we hope exceeds your expectations.
Like all of our products, our company's custom medical Cable Assemblies, custom medical Connectors , and custom medical coiled cable assemblies are available with no minimum order and quick turn-around times for custom products. Order 10. Order 1,000. Order 10,000.
Medical Cable Assemblies,Medical Equipment Cable Assemblies,Hospital Cable Assemblies,Custom Medical Cable Assemblies
Shareconn Development CO.,LTD , http://www.share-conn.com